Stupid Odds & Ends!
The world is filled with stupid people in positions of power or as gatekeepers!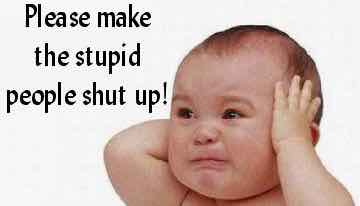 It's almost mid-week and you need to laugh. These are a few short things that will let you have a good one!

Many bars had a viewing party/breakfast for the Comey hearing. Their come-on was a free round of drinks every time Trump tweeted during the hearings. No drinks – Trump never tweeted during the hearings! The bars made out like bandits!

New Mexico Education Secretary Hanna Skandara resigned - effective June 20. It was a big surprise. She might be the most hated New Mexico Education Secretary in history. During her reign of terror, schools did not do well. Yes, there were a few good things, but I think they were an accident. She is known for the idiot PARCC tests. Get out of town and let's see what new disaster comes in!

I was having lunch at the Museum Hill Café in Santa Fe. Great place and good food. When we came out they were watering by sprinkler, the grass for the Museum of Anthropology. The water was also going all over the sidewalk. It was 1pm and it is against the law. My companion actually said something to a worker and he didn't care. So the State of New Mexico Museums get a pass at following the law? They must have lots of money to waste water!

I blew out my knee and called Presbyterian for an appointment. My doctor retired so I wanted a look see with his replacement. To get an appointment it was three months with her. I bitched and the appointment person said your retired doctor is doing substitute duty and do you want to see him tomorrow. Yes I do! I think health insurance companies need to give you an appointment in the same month you call. They take your money even with lack of service don't they?

Dumb!



Visit Gallup – Friday, Saturday or Sunday!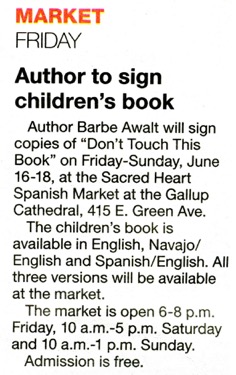 For a different adventure, come up to Gallup for the Sacred Heard Spanish Market at the Gallup Sacred Heart Cathedral. You can see the Cathedral from I40 – it on the hill and the tallest thing around. But if you need an address – 415 East Green Ave.


The happenings are Friday 6-8pm, all day Saturday and Sunday until about noon. There is tons of art, books, talks, food, vintage cars, stuff for kids, an auction, and much more. It could be a nice change of pace and visit Ricardo Caté's exhibit at the Sky City Casino on I40 at Acoma Pueblo. Have a green chile cheeseburger on me!


Barbe Awalt


UPCOMING CALENDAR:
RIO GRANDE BOOKS
June 16-18: Sacred Art Market, Gallup Cathedral
July 15: Lavender in the Village, Los Ranchos Agri Center
Nov 4, 2017: Tempe Book Festival, Tempe AZ Public Library

HENRIETTA CHRISTMAS & PAUL RHETTS ("The Basic Genealogy Checklist")
June 24: Treasure House Books, Albuquerque Old Town 1-3pm "Basic Genealogy Checklist: 101 Tips & Tactics to Finding Your Family History"
August 12: Tome on the Range, Las Vegas, NM 12 noon and 4pm

LORETTA HALL ("Miguel & Michelle Visit Spaceport America:" "The Space Buff's Bucket List;" "Space Pioneers;" and "Out of this World")
July 13: OASIS, 1:00-2:30, "What Sex Differences Mean for Space Travel"

RILEY MITCHELL ("The Essential Paranormal Bucket List")
June 24: NM Arts & Crafts Fair, NM Expo State Fair Grounds, 12noon
July 29: Treasure House, 1-3pm Albuquerque Old Town Plaza

SLIM RANDLES ("The Cowboy Bucket List;" "Old Jimmy Dollar;" "Home Country;" etc.)
June 25: Treasure House, 1-3pm Albuquerque Old Town; "The Cowboy Bucket List"

GAIL RUBIN
June 17: Albuquerque Death Cafe, 3:00-5:00 p.m. Email Gail_Rubin@comcast.net for information.
June 20: "Funeral Planning for Those Who Don't Plan to Die," VA Medical Center in Albuquerque. (closed to the public)
July 12: "Jewish Funeral Traditions on Film" presented through Osher Lifelong Learning Institute; 1:00-3:00 p.m.
July 28: The Osher Lifelong Learning Institute class "Laughing and Learning," 1:00-3:00 p.m.