Slim Randles & The Giant Eclair
The Chocolate Eclair That Ate the World? Or was it the author who ate the whole enchilada? Plus, other rants and goings on.

Slim Randles is a dying breed. He is a gentleman, jack of all trades, archer, fisherman, hunter, author, newspaperman, storyteller, and now radio personality. I met Slim for a catch-up at Flying Star – our "office" and he could not resist the GIANT ÉCLAIR!

Some may not be aware but Slim has quite a following. He has a regular monthly newspaper column as well as a radio show. But even better he has been picked up by newspapers all across the country; just last week his
Home Country
column was picked up by the
Houston Chronicle
and its 384K readers. His column has a world wide distribution of over 5M readers!

His new books — the
Cowboy Bucket List
book and his first book for kids,
Ol' Jimmy Dollar
— are award-winning and a big hit. He is in our family of authors and his only "problem" is that he has ideas all the time for new books.

I just couldn't resist this photo of Slim and his two-fisted eclair!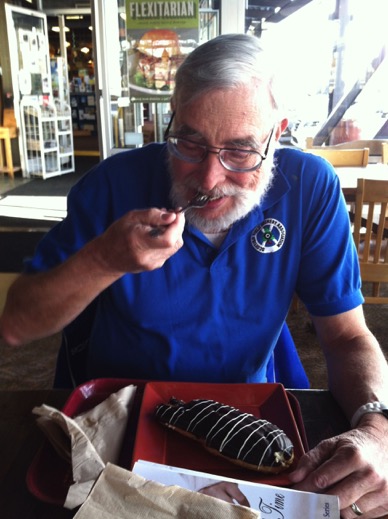 Barbe Awalt
Today's Rants: Double Standards . . . Just Saying!

About 1% of all Americans are millionaires, but roughly 46% of those serving in Congress are. There's nothing wrong with being rich. It probably is really nice! But there is a problem when the people creating tax and economic policy fail to understand the financial stress a typical family faces.
Every year members of Congress and their staff get an automatic cost-of-living increase in their pay, which is now $174,000 per year for Congress people — about 3.4 times as much as the average worker earns.
Members of Congress are eligible for two types of retirement plans and a retirement healthcare plan that in nearly every way are more generous than benefits typically offered to private-sector workers. One research group estimates that fringe benefits alone are worth about $82,000 per year to every member of Congress. We'd all like a piece of that one!
For every member of Congress there are about 22 registered lobbyists who donate tons of money, throw fundraisers, and manipulate legislation for their own benefits regardless of their impact on the public.
Back to a previous rant … Trump campaign advisor Carter Page now admits that he meet with Russian officials during the election campaign, even though he previously denied it over 20 times. Will he be punished? Probably not … add to that growing list of liars, Trump's own son-in-law Jared Kushner who was standing right next to Mike Flynn during one meeting with Russian officials (White House confirmed this on March 3). My, my! And Donald's son Don Jr. was PAID at least $50K by a think tank connected to the Russian Foreign Ministry for a speech during the campaign.
In case anyone got overly sidetracked by the Russian spy drama, the following bills HAVE been introduced in Congress:

1. HR 861 Terminate the Environmental Protection Agency
2. HR 610 Vouchers for Public Education
3. HR 899 Terminate the Department of Education
4. HJR 69 Repeal Rule Protecting Wildlife
5. HR 370 Repeal Affordable Care Act
6. HR 354 Defund Planned Parenthood
7. HR 785 National Right to Work (this one ends unions)
8. HR 83 Mobilizing Against Sanctuary Cities Bill
9. HR 147 Criminalizing Abortion (Prenatal Nondiscrimination Act)
10. HR 808 Sanctions against Iran
UPCOMING CALENDAR:

Rio Grande Books

April 8: Gallup Public Library, 9am-5pm "Author Fair"
April 20-22: Arizona-NM Historical Society Conference, Flagstaff, AZ
June 16-18: Sacred Art Market, Gallup Cathedral
July 15: Lavender in the Village, Los Ranchos Agri Center


Henrietta Christmas & Paul Rhetts

April 30 : Santa Fe Public Library, 2pm "Basic Genealogy Checklist: 101 Tips & Tactics to Finding Your Family History"


Loretta Hall

March 18 : Santa Fe Public Library, 2pm "New Mexico's Contribution to Space Travel"
April 5: Bear Canyon Senior Center, 10:00-11:30, "NM is a Treasure Trove of Space History"
April 7, 14, 21, 28: LifeLong Learning Institute class, Covenant Presbyterian Church, 9315 Candelaria Rd NE, Albuquerque, 10:00-12:00, "New Mexico's Contributions to Space Travel"
May 3, Bear Canyon Senior Center, 10:00-11:30, "Getting Men to the Moon: Behind-the-Scenes Stories"
July 13: OASIS, 1:00-2:30, "What Sex Differences Mean for Space Travel"


Pat Hodapp

April 23 : Collected Works, 2pm "Santa Fe Bucket List"


Sabra Brown Steinsiek

March 11 : Reading "The Tale of the Pronghorned Cantaloupe" on Green Knees Radio (KSFR 101.1)


Ross Van Dusen

March 4 : Reading "How Crocka Dog Came to Be" on Green Knees Radio (KSFR 101.1)
May 20 : Treasure House Books, 1pm "Lyle Got Stuck in a Tree"