Steel Bender Brewyard
Green chile is the best! And when you can have it in burgers and other good food items, all the better. You need to check out a new location called the Steel Bender Brewyard. It's the bomb!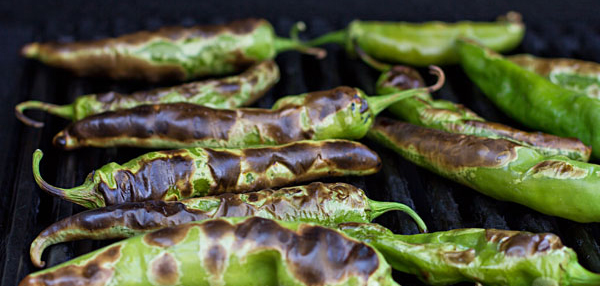 Because of my connection with Green Chile Cheeseburgers, I was interested in a new place in Los Ranchos. Apparently, I had been driving by the Steel Bender Brewyard for many months and didn't see it. It doesn't have a sign in front so you have to know what you are looking for but at 4:30pm on a Thursday, it was mobbed, so a lot people know about it already. The Brewyard has been open for two months.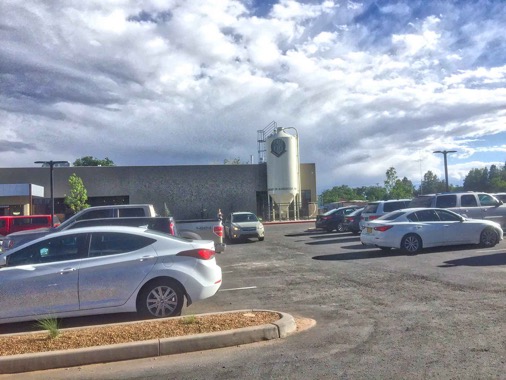 OUTSIDE OF STEEL BENDER BREWYARD

Steel Bender, is — I think — the brainchild of the Chant Brothers who are in construction. The building is beautiful with a great view of the Sandia Mountains. There is a beer garden outside and a large party-type room. There are tons of tables to sit and eat, but they were filled at 5pm.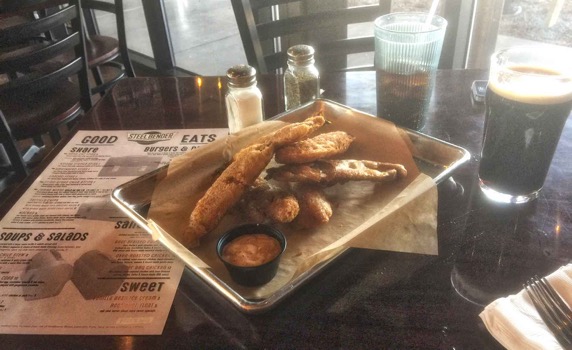 FRIED GREEN CHILE STRIPS — yum!

We shared the Fried Green Chile Strips with red-chile ranch and they were GOOD! They also have four different kinds of fries. The menu items are large. I had the Yard Bird Cobb and Paul had the Steel Bender Burger – with green chile, of course. Tons o'food!

There is a kid's menu and limited desserts. On the menu are the Steel Bender Rules. They cut you off at three beers. No swearing and if your kids run free they promise to feed them sugar and caffeine before they are returned. I like that.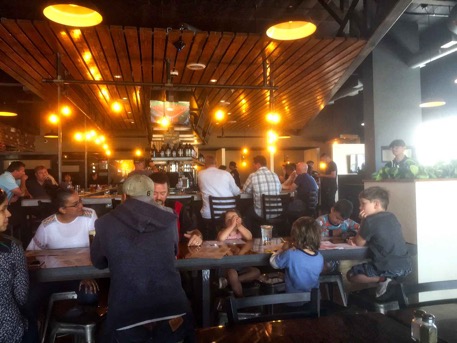 VERY FAMILY FRIENDLY ATMOSPHERE
Steel Bender Brewyard – 8305 2
nd
St. NW in Los Ranchos, Alb. 11am to 10 pm or 11pm on Friday & Saturday. Yum.


Barbe Awalt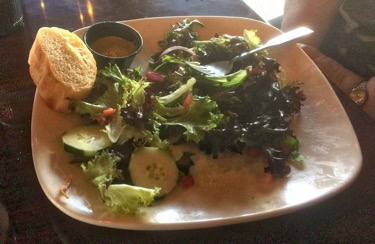 ALL THAT REMAINED OF THE YARDBIRD COBB SALAD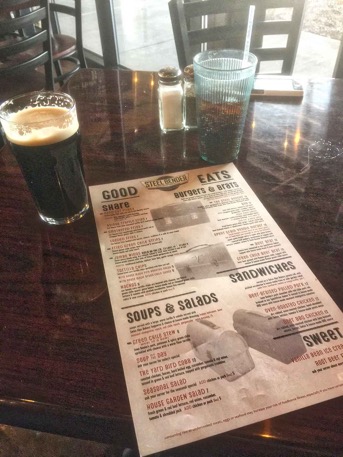 Today's Random Thought!

Russians have transcript of Oval Office Mtg; does that mean they brought in a recording device to the WH? Did they take it back on leaving?
UPCOMING CALENDAR:
Rio Grande Books

May 27: El Rito Public Library Fundraiser with Nicholas Herrera, 10a-1pm
June 16-18: Sacred Art Market, Gallup Cathedral
July 15: Lavender in the Village, Los Ranchos Agri Center
Nov 4, 2017: Tempe Book Festival, Tempe AZ Public Library


Henrietta Christmas & Paul Rhetts

June 24: Los Alamos Genealogy Society, 7pm "Genealogy Tips"
June 24: Treasure House Books, Albuquerque Old Town 1-3pm "Basic Genealogy Checklist: 101 Tips & Tactics to Finding Your Family History"


Loretta Hall

June 10: Bookworks, 11am. 4022 Rio Grande Blvd ABQ
July 13: OASIS, 1:00-2:30, "What Sex Differences Mean for Space Travel"


Ross Van Dusen

June 4: Treasure House Books, 1pm "Lyle Got Stuck in a Tree" and "What Makes Lightning?"