Think Lavender – July 15!
Come out and have some fun next weekend at the annual Lavender in the Village festival on Sat. July 15

Lavender in the Village – July 15!


We have been a vendor at Lavender In The Village ever since it moved to the Agri-Nature Center in Los Ranchos on Rio Grande Blvd. At first it was a two-day event, then a break, and last year it was back for one day. We totally love the event.

At our both in the middle of the Agri-Nature building will be books from North Valley authors Loretta Hall, Paul Rhetts and Ross Van Dusen, along with my books. Of course, we will have other titles from authors in New Mexico like Rudolfo Anaya, Nasario Garcia, Henrietta Christmas, and the new bucket books by Slim Randles and Riley Mitchell among all the other titles. There will be some very GOOD prices – think buying now for the holidays and birthdays.

I hope they have the lavender ice cream this year! It is a crowd pleaser and always sells out!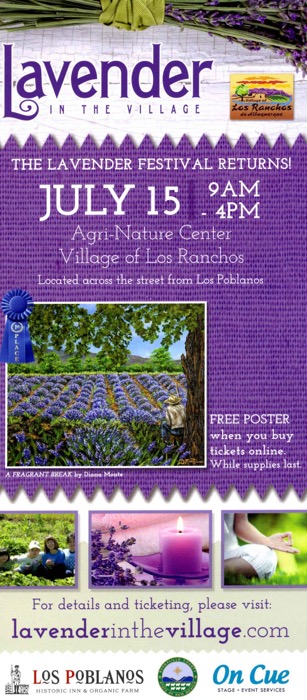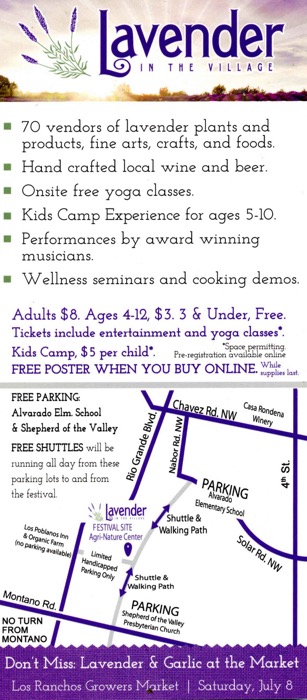 Barbe Awalt
UPCOMING CALENDAR:
RIO GRANDE BOOKS

July 15: Lavender in the Village, Los Ranchos Agri Center
Nov 4, 2017: Tempe Book Festival, Tempe AZ Public Library


HENRIETTA CHRISTMAS & PAUL RHETTS ("The Basic Genealogy Checklist")

August 12: Tome on the Range, Las Vegas, NM 12 noon and 4pm


LORETTA HALL ("Miguel & Michelle Visit Spaceport America:" "The Space Buff's Bucket List;" "Space Pioneers;" and "Out of this World")

July 13: OASIS, 1:00-2:30, "What Sex Differences Mean for Space Travel"


RILEY MITCHELL ("The Essential Paranormal Bucket List")
July 29: Treasure House, 1-3pm
Albuquerque Old Town
Plaza
GAIL RUBIN

July 12: "Jewish Funeral Traditions on Film" presented through Osher Lifelong Learning Institute; 1:00-3:00 p.m.
July 28: The Osher Lifelong Learning Institute class "Laughing and Learning," 1:00-3:00 p.m.