The Future of Books
Book sales are off! Number of book stores is down. Money for libraries is non-existent! Oh, my. What are we gonna do?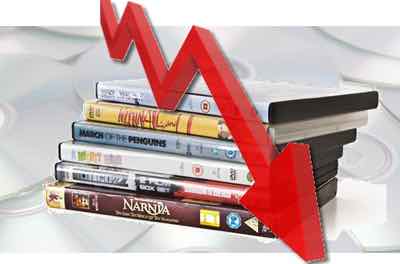 All around us books are in trouble. Not because we have run out of good ideas for books or we don't great authors to write them. But the places we get books are in trouble.

Bookstores are having a terrible time. They can't get customers in the door. People have many other activities or just aren't shopping. Maybe they don't have money to shop! So, if you don't have customers you can't sell books. Bookstores have to reinvent themselves to bring people in. There is no magic miracle on what to do.

Libraries are also having a tough time. Not because they can't get enough people in – their patronship is actually up. But the powers to be, that ask for money, are running out of it. And libraries are a low priority for getting money. The powers to be probably don't read. So libraries are inventing unusual ways to make money so they can pay for things like books, salaries, building repairs, subscriptions, and everything else. Then the powers to be say to the libraries, "You found new ways to get money so we don't have to give you money!" A never ending circle of stupid.

People are under the impression that ebooks are up in sales. Actually, they are down. They were supposed to be the new, great thing but that didn't happen. And ebooks take money and time to develop.

Finally, publishers are feeling the heat. If stores and libraries can't buy books then publishers can't sell them. Case in point, UNM Press. They are quietly being pulled apart by the powers to be, at UNM, because there is no money. Actually, there is no money because they pour it into bad sports programs and pay huge golden parachutes to bad hires to leave – presidents, teachers, and coaches. Then they dump money down the drain to have "fantasy" trips to Scottish golf courses. Meanwhile, UNM pulls money from UNM Press. Do kids go to college for sports or get a good education?

The rumors that have surfaced are that a current college teacher will get an extra $10,000 to head up UNM Press. You see the current Director has been terminated and he wasn't getting as much in salary as a coach! So let me get this straight, a professor will know book distribution, contracts, copyright law, staff, design, ebooks, editing, and books in general? No, the person who thought of that brilliant idea must be on drugs. It is a stupid idea.

Other rumors circulating are: all the UNM Press books are being sent to Chicago for fulfillment so they can close the warehouse and staff has also been terminated so the few that are left can be hidden in the UNM Zimmerman Library. The Library doesn't want them and doesn't have room but hey, they are just a library. Who uses them at a college?

This is all very sad and UNM ought to be ashamed of itself! Books will be around after the powers to be are dead and gone. Wait until the powers to be want to write a book and no one will publish it!



Barbe Awalt


June 2017 issue of ALBUQUERQUE THE MAGAZINE featured "Don't Touch This Book!":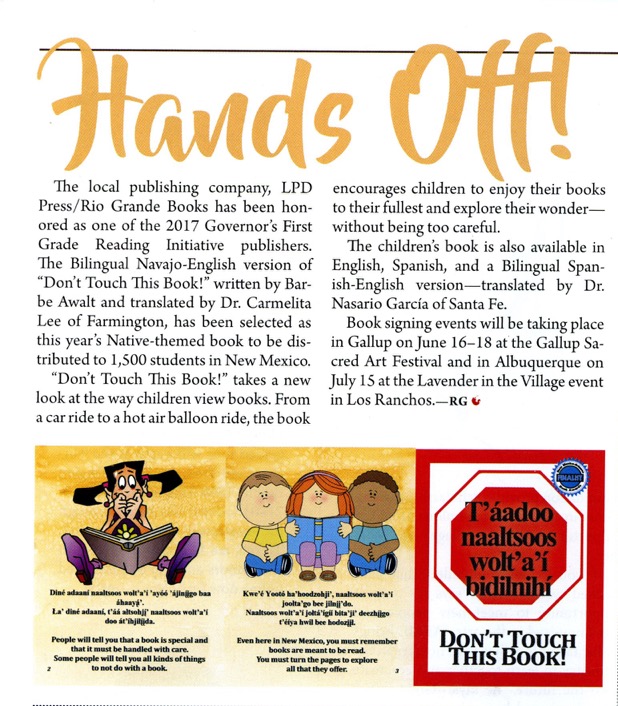 Today's Random Thought!

CNBC had a report on books and Amazon last week: Amazon can't and won't stop growing, according to one firm that upgraded the stock on Monday. "We believe Amazon's established dominance in U.S. is sustainable with Prime, mobile penetration and third-party growth," Needham analyst Kerry Rice wrote in a note to investors. Further, Amazon Web Services will continue to be a "key driver" for the e-commerce giant to grow its profits, he added. Over the next five years, Rice said he anticipates Amazon to grow its U.S. market share by 16 percent, which would make the company a majority player — dominating more than 50 percent — in retail. Needham estimated Amazon's 2016 market share in the American retail sector to be 34 percent, based on gross merchandise volume.

UPCOMING CALENDAR:
Rio Grande Books

May 27: El Rito Public Library Fundraiser with Nicholas Herrera, 10a-1pm
June 16-18: Sacred Art Market, Gallup Cathedral
July 15: Lavender in the Village, Los Ranchos Agri Center
Nov 4, 2017: Tempe Book Festival, Tempe AZ Public Library


Henrietta Christmas & Paul Rhetts

June 24: Los Alamos Genealogy Society, 7pm "Genealogy Tips"
June 24: Treasure House Books, Albuquerque Old Town 1-3pm "Basic Genealogy Checklist: 101 Tips & Tactics to Finding Your Family History"


Loretta Hall

June 10: Bookworks, 11am. 4022 Rio Grande Blvd ABQ
July 13: OASIS, 1:00-2:30, "What Sex Differences Mean for Space Travel"


Ross Van Dusen

June 4: Treasure House Books, 1pm "Lyle Got Stuck in a Tree" and "What Makes Lightning?"