NM Writers Dinner and exploring the future of books
Come have some fun with some great writers at the NM Writers Dinner and then explore where the book biz is headed over the next year or two . . .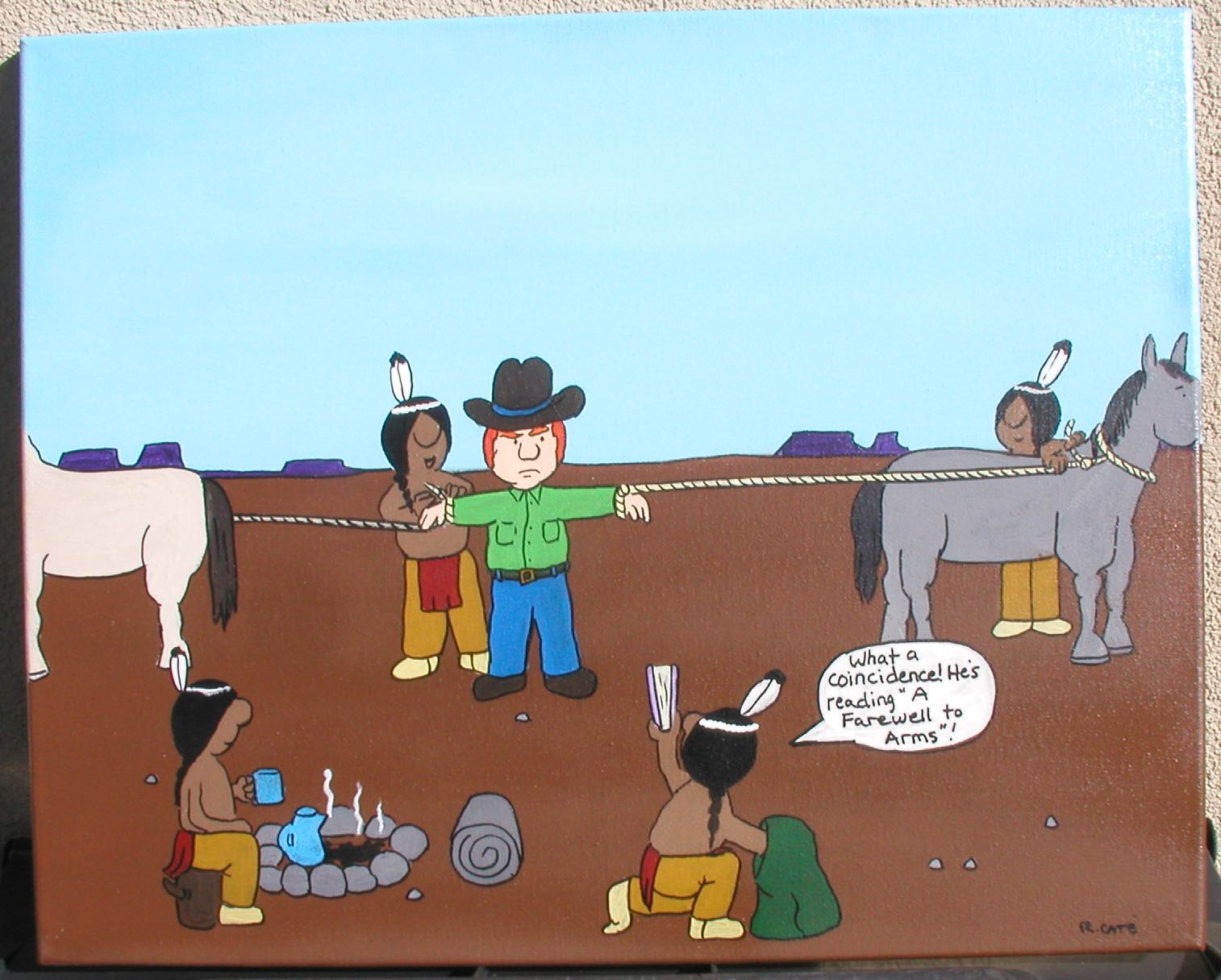 Part I — Deadline Approaches for NM Writers Dinner

We are co-conspirators getting the first, Writers' Dinner off the ground. The main conspirator is James McGrath Morris – Jamie. He had this idea that writers should get together, have some fun, and provide scholarships for up and coming writers. If we don't do it, who will?

The Dinner is next Thursday, March 2, 2017, at the La Fonda in Santa Fe. Besides the food and drink there will be a Silent Auction of SIGNED books and other book-related stuff to bid on.

There are a number of books that I have my eye on but what has really got me bidding is the LARGE painting by Native American cartoonist Ricardo Caté. He is the cartoonist for the Santa Fe New Mexican and has published books about his cartoons. The painting is a Farwell To Arms." Killer! Ricardo's sense of humor is something we all need right now.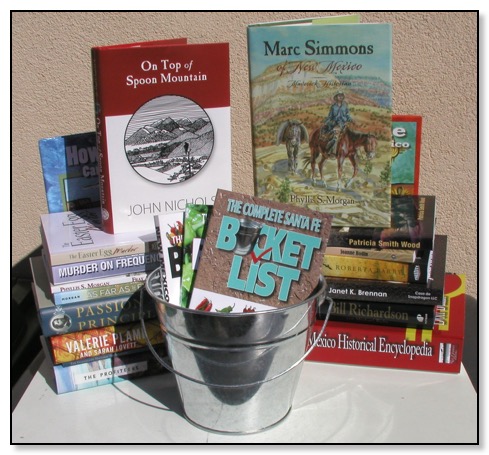 There are also books by Rudolfo Anaya, Marc Simmons, Don Bullis, Deborah Madison, Valerie Plame, David Morrell, Nasario Garcia, John Nichols, with many others, and a few Bucket books by our own Pat Hodapp (another conspirator) and myself.

The deadline to reserve a seat for dinner is Monday. No walk-ins. It is worth doing if you are in the area.


Barbe Awalt


CLICK ON IMAGE BELOW TO REGISTER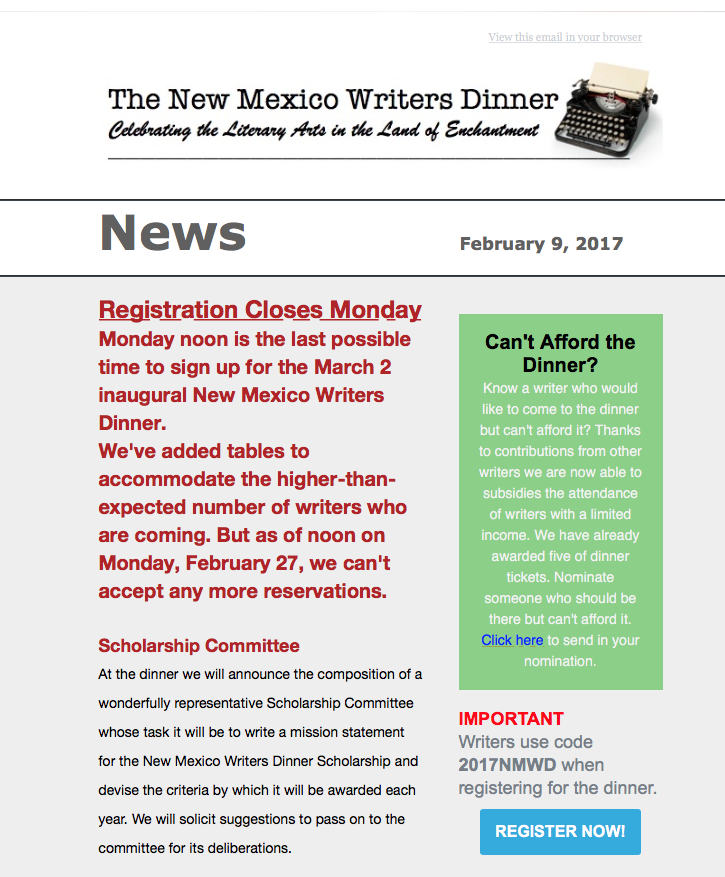 Part II — Changes Ahead for Books

American Association of Publishers has released some new numbers this week that point to the trend we saw in previous findings: that print (paperback and hardcover) and audio sales continue to grow while ebook sales continue to decline.
Ebook numbers continue to go down (not up), as we can clearly see, but as we've noted previously, this may actually be a good thing. At least for those who advocate for more affordable access to books online, and especially for those whose advocate free access to books online (beyond libraries). Although disappointing, numbers like this do not confirm that people don't want to read and access content in digital format. Instead, they confirm that they simply do not want to pay for ebooks, or at least not as much they've had to pay thus far. Readers are already used to consuming massive amounts of information for free in digital format, and their expectations continue to gravitate in the direction of 'free' even when it comes to books (including fiction and all types of nonfiction).



UPCOMING CALENDAR:

Rio Grande Books

April 8: Gallup Public Library, 9am-5pm "Author Fair"
April 20-22: Arizona-NM Historical Society Conference, Flagstaff, AZ
June 16-18: Santo Market Gallup Cathedral

July 15: Lavender in the Village, Los Ranchos Agri Center

Pat Hodapp

April 23 : Collected Works, 2pm "Santa Fe Bucket List"



Paul Rhetts

April 30 : Santa Fe Public Library, 2pm "Basic Genealogy Checklist: 101 Tips & Tactics to Finding Your Family History"



Loretta Hall

March 18 : Santa Fe Public Library, 2pm "New Mexico's Contribution to Space Travel"

April 5: Bear Canyon Senior Center, 10:00-11:30, "NM is a Treasure Trove of Space History"

April 7, 14, 21, 28: LifeLong Learning Institute class, Covenant Presbyterian Church, 9315 Candelaria Rd NE, Albuquerque, 10:00-12:00, "New Mexico's Contributions to Space Travel"

May 3, Bear Canyon Senior Center, 10:00-11:30, "Getting Men to the Moon: Behind-the-Scenes Stories"

July 13: OASIS, 1:00-2:30, "What Sex Differences Mean for Space Travel"


Ross Van Dusen

May 20 : Treasure House Books, 1pm "Lyle Got Stuck in a Tree"