UNM Press—What To Do While Staying Cool
Up in arms over the demolishment of the University of New Mexico Press, an important part of NM life since 1929!

What To Do While Staying Cool

You know doing anything that requires energy in the heat is not going to happen. So, I offer things you can do from the AC atmosphere of your home or office.

As you know, I am livid about what is happening to UNM Press. But let's be real, I don't do heat and neither should you. My first Letter To The Editor just came out in
Weekly Alibi
. It took five minutes to put on their website and they printed it. I have also submitted to the
Albuquerque Journal
. It is easy and fast and can be done online. No sweat! Ask why, as a taxpayer, you don't know what is happening? I give you mine as a guide.

I also suggest you call to ask, "What is going on with UNM Press?" No one will actually talk to you because the leadership at UNM doesn't want anyone to know what they are doing, but call anyway. And you are a nobody except when they want your money. It is fun to call!

Interim UNM President Abdallah - 277-2626 or email
UNMPres@unm.edu

Interim UNM Provost White – 277-2611 or email
provost@unm.edu

Dean of UNM Libraries Clement – 277-4241 – no email posted on the UNM website – who does that in a library?
All phone #'s are area code 505.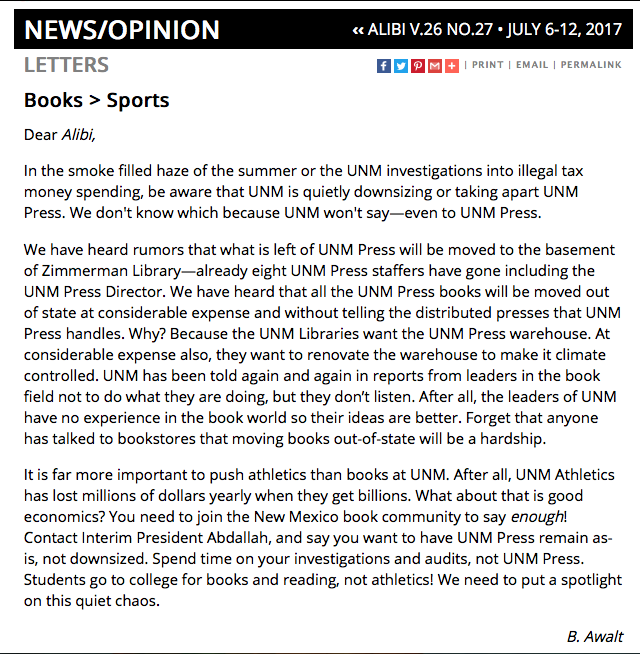 Barbe Awalt
TRUMP CARE PREMIUMS TO SKY-ROCKET
I am probably not the first person to remark that our healthcare costs are about to sky-rocket, but let me chime in anyway. The chart below shows exactly what we should all expect if something does't change very soon. With a future like this, none of us will have any insurance.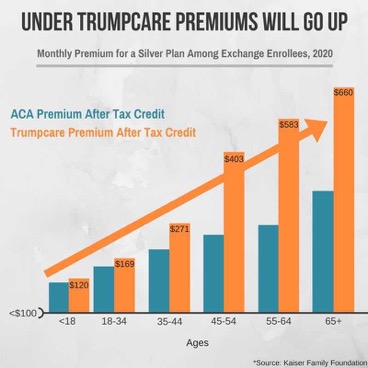 UPCOMING CALENDAR:
RIO GRANDE BOOKS

July 15: Lavender in the Village, Los Ranchos Agri Center
Nov 4, 2017: Tempe Book Festival, Tempe AZ Public Library


HENRIETTA CHRISTMAS & PAUL RHETTS ("The Basic Genealogy Checklist")

August 12: Tome on the Range, Las Vegas, NM 12 noon and 4pm


LORETTA HALL ("Miguel & Michelle Visit Spaceport America:" "The Space Buff's Bucket List;" "Space Pioneers;" and "Out of this World")

July 13: OASIS, 1:00-2:30, "What Sex Differences Mean for Space Travel"


RILEY MITCHELL ("The Essential Paranormal Bucket List")
July 29: Treasure House, 1-3pm
Albuquerque Old Town
Plaza
GAIL RUBIN

July 12: "Jewish Funeral Traditions on Film" presented through Osher Lifelong Learning Institute; 1:00-3:00 p.m.
July 28: The Osher Lifelong Learning Institute class "Laughing and Learning," 1:00-3:00 p.m.